SART Guide Social Media Post Pic.JPG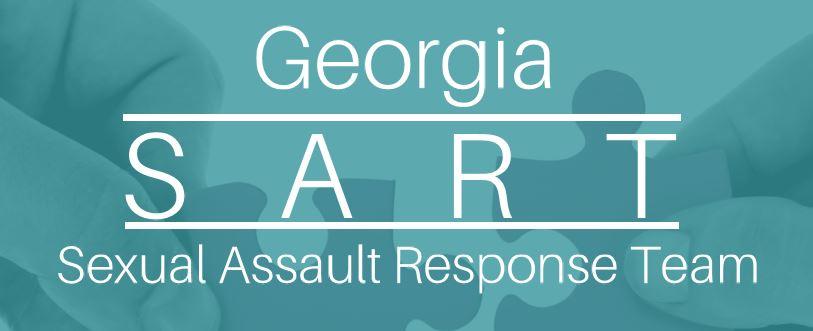 The Georgia Sexual Assault Response Team (SART) Guide is a multidisciplinary victim‐centered approach for responding to victims of sexual assault.
This project supports and strengthens existing Sexual Assault Response Teams (SARTs) and assists in the creation of new SARTs. The ultimate outcome is that each judicial circuit has a trained SART to support a coordinated response to sexual assault, ensuring that victims are safe, and offenders are held accountable.
Sexual Assault Response Team (SART) Grant –
Awarded by the U.S. Department of Justice, Office of Violence Against Women
Funded a designated team member at CJCC to coordinate the SART Project and partner agencies in the development of trainings and resources.
The Georgia SART Project is a statewide Sexual Assault Response Team initiative that provides guidance, resource materials, training and technical assistance to Georgia's 49 judicial circuits. The Project is supported and overseen by a State Expert Committee that provides oversight and guidance in the development of materials and policies. The goal of the Project is a unified, statewide, consistent response from law enforcement, prosecutors, the courts and victim service providers; an increase in offender accountability; and increased knowledge and skills for victim services and criminal justice system stakeholders to appropriately respond to incidents of sexual assault in the state of Georgia.
Along, with this work CJCC's designated team member offers training and hands-on assistance to all GA judicial circuits.
The State Expert Committee developed a sample SART Protocol. This sample Protocol is provided to local jurisdictions as a tool for developing their own SART protocol, as mandated by O.C.G.A. § 15-24-2.
The SART Project also funded a SAK Victim Notification Portal. This Portal is now live. From this site, victims may log in and register for how/if they would like to be notified should there be new information on their SAK. This specifically applies to SAKs that were part of the backlog.
Sexual Assault Kit (SAK) Work Group
The Sexual Assault Kit Work Group was initiated by the SART Project to make recommendations to local jurisdictions in addressing challenges associated with eliminating the backlog.
The SAK Work Group meets regularly and has developed a victim notification template for adaptation by local SARTs to ensure best practices in notifying victims of the results of SAK testing.
The SAK Work Group has also developed recommendations for best practices in cold case sexual assault investigations and prosecutions.