Guidelines for providing Remote Telemental Health Services
Programs may need to consider shifting from in person (Counseling/Therapy) services to remote Telemental health services. The Criminal Justice Coordinating Council has compiled resources and information from the Department of Health and Human Services, telehealth.org, ZURinstituite.com and The Knowledge Tree to provide initial guidance to provide remote Telemental health services.
What is Telemental Health?
"TeleMental Health" is the use of telecommunications technology to provide behavioral health services (counseling/therapy) from a distance.
Platforms to provide this service include:

Plain Old Telephone Systems (POTS) & Mobile Phone
Video Tele-Conferencing (VTC)
Email
Texting
Social Media
Recommended Apps & Websites
Computer storage & cloud storage of PHI
Telemental Health Services Requirements
To provide Telemental Health services in Georgia, every clinician needs to have taken 6 hours of Telemental Health Training. Here are some links to those trainings:
However, trainings may be cancelled and/or changed to webinar type platforms due to COVID-19. We are aware that the ethical obligation to effectively take care of clients may outweigh this training requirement during this time. See below for additional guidance from the Department of Health and Human Services regarding HIPPA compliance during the COVID-19 emergency:
If you need to provide Telemental health services without having the required 6-hour training, please take the one hour webinar listed below to get you started.
Dr. Becky Beaton, the Director of the Stress and Anxiety Management Institute developed a one-hour webinar Telemental Health training in response to the COVID-19 crisis to assist clinicians with shifting their in-person counseling/therapy services to providing remote Telemental health services. The training will give you access to all updated informed consent forms (to include Telemental health), a Telemental health assessment checklist for clients and some general guidelines for support group platforms as well. You are welcome to adapt and tailor the forms included in the training. The training is $20 dollars.
See below for an additional webinar that provides and introduction to Telemental Health services.
Things to consider:
The therapist needs to be licensed at the ORIGINATION SITE which is where the client is at the time of services. The therapist needs to be licensed in the state that the client is located. This means that if you are licensed in Georgia and your client travels outside of Georgia and contacts you for services, you need to be licensed in that state, UNLESS:

The client is in crisis and the therapist needs to document this in the client's chart.
Or, the therapist utilizes guest privileges (as long as they exist according to that state's law for that license). See below for Epstein Becker Green"s Telemental Health Laws that can be used to determine if a state allows for guest privileges. 
Telemental Health Apps Pic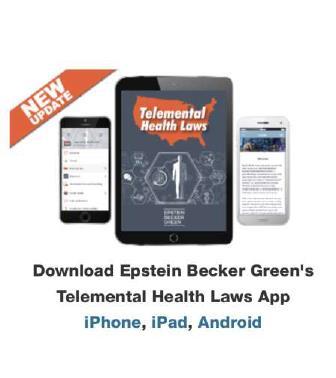 Not all clients are appropriate for Telemental health services. Before providing Telemental health services assess a client's appropriateness for this type of service. See below for some examples of what to look for to assist in determining if a client may not be appropriate to receive Telemental health services:

Assess clients for suicidal ideation and/or need for hospitalization.
Assess client's ability to access technology and comfort with the use of technology.
Assess any cultural and language barriers that might impede the use of Telemental health services.
Assess for safety: Is the client in a violent situation at home? If so, it may not be safe to conduct Telemental health sessions.
Consider privacy and confidentiality in assessment. Do both the therapist and the client have a private space to conduct sessions?
General Telemental Health Guidelines
Make sure that your computer is password protected (alphanumeric).
Virus protection software. Some come with VPN security, which is recommended.
Perform regular updates to your operating system.
Have a firewall.
HIPPA compliant platforms for email:
Check your EHR Platform
Hushmail, etc.
"G Suite" by Google
PsyBooks
Datamotion
Email Pros
LuxSci
NeoCertified
See more options here: www.telehealth.org/email/
At minimum, password protect your email. When creating a password: Use one that is 8-10 characters with special symbols, varied capitalization, and not in the dictionary. Never renew or use the same one.
HIPPA compliant texting platforms
Google Voice – BAA (Business Associate Agreement*) with G-Suite
HipaaChat – BAA*
Medigram - Business Associate Agreement* – Free
qliqSOFT - Business Associate Agreement* $6
WhatsApp and Signal claim HIPAA compliance, but the platforms do not provide a Business Associate Agreement*: They are what is considered a "conduit" like USPS, never pens anything & can't access. www.hhs.gov/hipaa/for-professionals/special-topics/cloud-computing/inde…
What is A Business Association Agreement?
 (The above platforms already have BAA in place that you can have them sign)
A "business associate" is a person or entity, other than a member of the workforce of a covered entity, who performs functions or activities on behalf of, or provides certain services to, a covered entity that involve access by the business associate to protected health information. A "business associate" also is a subcontractor that creates, receives, maintains, or transmits protected health information on behalf of another business associate. The HIPAA Rules generally require that covered entities and business associates enter contracts with their business associates to ensure that the business associates will appropriately safeguard protected health information.
HIPPA Compliant Videoconferencing Platforms:
Doxy.me (FREE)

Because this Platform is HIPPA compliant and FREE it is a good option

Telehealth365, Inc
Zoom ($200 version- this is the HIPPA compliant version)
Vsee ($199)
https://www.theraplatform.com/

Pricing is $39 a month for agency and additional $29 per month per clinician.  The first 30 days are free and it can be cancel at any point without penalty. 

See more at http://telehealth.org/video/
FaceTime and Skype are not HIPPA Compliant, HOWEVER- During this time, in response to COVID-19, the Department of Health and Human Services is providing guidance giving the clinician discretion on use of telehealth platforms.
"This exercise of discretion applies to widely available communications apps, such as FaceTime or Skype, when used in good faith for any telehealth treatment or diagnostic purpose, regardless of whether the telehealth service is directly related to COVID-19."